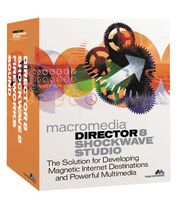 Macromedia Director 8 was the eighth major version of the Director series of multimedia authoring environments, released by Macromedia in March 2000 as part of Director 8 Shockwave Studio.[1]
Features
New features included:[2]
Cast Manager can sort media elements by name, size, dates, type, and comments.
Property Inspector provides context-sensitive access to multiple sprite properties.
More precision control with Guides, Sprite Locking, Zoom, and Pasteboard Stage Views.
Built-in Multiple Curve Vectors can generate high quality shapes with very little memory usage.
Lingo Scripts can be linked to be edited and launched from a separate text or source-code editor.
Product history

References
External links
Articles