Jurassic World: Dominion Dominates Fandom Wikis - The Loop
Play Sound
Support for Flash expired on December 31, 2020.
---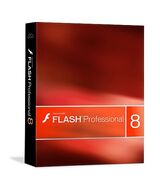 Macromedia Flash was an interactive web authoring platform that was one of the signature products of Macromedia. The Flash Player plug-in was used for the delivery of interactive multimedia over the web with animated graphics and streaming video. However, the Flash platform has since been deprecated by Adobe and support was phased out of major browsers by the end of 2020.[1]
Product history
Flash was originally created at FutureWave Software as FutureSplash Animator. FutureWave pitched the product to Adobe Systems, but an agreement was not reached and Adobe initially promoted rival specifications to Flash.[2] In January 1997, FutureWave was acquired by Macromedia for an undisclosed sum. FutureSplash Animator then became Macromedia Flash.[3][4]
Release history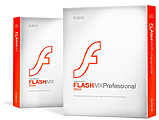 Macromedia was acquired by Adobe Systems in December 2005.[5] Macromedia Flash was then branded as Adobe Flash.
Deprecation
In April 2010, Apple CEO Steve Jobs wrote an open critique of Flash platform to justify his refusal to support the technology on Apple's successful iOS line, which included the iPhone, iPod touch, and iPad.[6] An Apple engineer later stated that Jobs was offended that Adobe CEO Shantanu Narayen would not take his phone calls for what he perceived to be "mere engineering problems".[7] Developers of third-party web browsers began to blacklist the Flash Player plug-in by default due to security issues.[8] In November 2015, Adobe announced that the next version of the Flash Professional authoring application would be rebranded as Adobe Animate (released in February 2016) to reflect the change of product focus.[9]
In July 2017, Adobe announced that it would phase out support for Flash Player by the end of 2020.[10] Support by major browser developers, such as Microsoft, was phased out by December 31, 2020. The latest Flash plug-ins began blocking playback of content on January 12, 2021.[1] Instead, an image would be displayed that would link to an end-of-life notice from Adobe.[11] For enterprise customers that still need to transition legacy Flash content to alternate technologies, such Adobe AIR, Harman International became an officially licensed distributor and enterprise support provider.[12]
References
↑ 1.0 1.1 Adobe Flash rides off into the sunset by T.C. Sottek, The Verge. 2020-12-31.
↑ Flash Wars: Adobe in the History and Future of Flash by Prince McLean, AppleInsider. 2008-05-05.
↑ Macromedia Rides the FutureWave by Kristi Coale, Wired. 1997-01-06.
↑ Macromedia buys Futurewave to add Flash to Shockwave, Computer Business Review. 1997-01-08.
↑ Adobe Completes Acquisition of Macromedia, Adobe Systems. 2005-12-05. Archived 2005-12-07.
↑ Thoughts on Flash by Steve Jobs, Apple. 2010-04.
↑ Apple engineer reveals the real reason Steve Jobs didn't allow Flash on the iPhone by Yoni Heisler, Boy Genius Report. 2016-12-12.
↑ Google and Mozilla pull the plug on Adobe Flash: Tech giants disable the program on browsers following 'critical' security flaw by Victoria Woollaston, Daily Mail. 2015-07-14.
↑ Welcome Adobe Animate CC, a new era for Flash Professional by Rich Lee, Adobe Blog. 2015-11-30.
↑ Flash & The Future of Interactive Content, Adobe. 2017-07-25.
↑ Adobe Flash Player EOL General Information Page, Adobe Inc. 2020-12-02. Accessed 2021-01-12.
↑ Adobe Flash Player EOL Enterprise Information Page, Adobe Inc. 2020-12-07.
External links